Entertainment
We have plenty of well positioned large viewing screens so you and your friends and family will be able to watch all the major sporting events.
You may also choose to have a flutter in the best gaming room in town, or book a large group in our new function room!
Remember too, that we serve desserts right up until closing time so once your movie is over drop back in for a bite of something sweet.
So… get your mates together and come join us.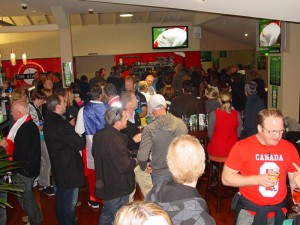 On the Big Screens
Warriors Vs Titans
Saturday LIVE from 4.30pm
---
Parker Fight
Joshua V Parker
Easter Sunday – 1st April
LIVE @ The Duke of Gloucester – Taradale
Due to Easter Trading Laws, This is a Ticketed Event ONLY!
Tickets are for sale @ The Duke, Limited numbers
---
 Tuesday 13th March
10.00AM
WORLD SURF LEAGUE LIVE
Day 3 of the Quiksilver Pro Gold Coast
1.00PM
NBA LIVE
Houston Rockets vs San Antonio Spurs
3.30PM
NBA LIVE
Portland Trail Blazers vs Miami Heat
---
Wednesday 14th March
10.00AM
WORLD SURF LEAGUE LIVE
Day 4 of the Quiksilver Pro Gold Coast
11.30AM
COLLEGE BASKETBALL LIVE
**Teams and venue TBC**
2.00PM
COLLEGE BASKETBALL LIVE
**Teams and venue TBC**
---
 Thursday 15th March
10.00AM
WORLD SURF LEAGUE LIVE
Day 5 of the Quiksilver Pro Gold Coast
1.00PM
NBA LIVE
Boston Celtics vs Washington Wizards
3.30PM
NBA LIVE
Golden State Warriors vs LA Lakers
8.15PM
CRICKET: ICC WORLD CUP QUALIFIER LIVE
**Teams and venue TBC**
9.00PM
NRL LIVE
Cronulla Sharks vs St George Illawarra Dragons from Southern Cross Stadium
---
 Friday 16th March
9.00AM
UEFA EUROPA LEAGUE LIVE
**Teams and venue TBC**
9.00AM
TENNIS: ATP 1000 INDIAN WELLS LIVE
Coverage of the ATP 1000 Indian Wells
10.00AM
WORLD SURF LEAGUE LIVE
Day 6 of the Quiksilver Pro Gold Coast
11.00AM
GOLF: LPGA TOUR LIVE
Round 1 of the Bank of Hope Founders Cup
6.30PM
WOMEN'S INTERNATIONAL CRICKET LIVE
White Ferns vs West Indies – 1st Innings
7.00PM
SUPER RUGBY LIVE
Chiefs vs Bulls from FMG Stadium
7.30PM
NRL LIVE
Sydney Roosters vs Canterbury Bulldogs from Allianz Stadium
9.45PM
A-LEAGUE LIVE
Adelaide United vs Melbourne City from Coopers Stadium
10.00PM
NRL LIVE
Brisbane Broncos vs North Queensland Cowboys from Suncorp Stadium
---
 Saturday 17th March
10.00AM
WORLD SURF LEAGUE LIVE
Day 7 of the Quiksilver Pro Gold Coast
11.00AM
GOLF: LPGA TOUR LIVE
Round 2 of the Bank of Hope Founders Cup
12.00PM
NBA LIVE
Philadelphia 76ers vs Brooklyn Nets
2.30PM
LEAGUE: NSW CUP LIVE
NZ Warriors vs Canterbury Bulldogs
3.30PM
LEAGUE: QLD CUP LIVE
Ipswich vs Townsville
4.30PM
NRL LIVE
NZ Warriors vs Gold Coast Titans from Mt Smart Stadium
4.30PM
ISPS HANDA PREMIERSHIP LIVE
Wellington Phoenix Reserve vs Auckland City from QBE Stadium
7.00PM
SUPER RUGBY LIVE
Highlanders vs Crusaders from Forsyth Barr Stadium
7.00PM
A-LEAGUE LIVE
Wellington Phoenix vs Newcastle Jets from QBE Stadium
7.30PM
NRL LIVE
Penrith Panthers vs South Sydney Rabbitohs from Panther Stadium
9.30PM
NRL LIVE
Melbourne Storm vs Wests Tigers from AAMI Park
9.40PM
SUPER RUGBY LIVE
Brumbies vs Sharks from GIO Stadium
9.45PM
A-LEAGUE LIVE
Sydney FC vs Brisbane Roar from Allianz Stadium
---
 Sunday 18th March
10.00AM
WORLD SURF LEAGUE LIVE
Day 8 of the Quiksilver Pro Gold Coast
10.00AM
UFC FIGHT NIGHT LIVE
Fabricio Werdum vs Alexandrer Volkov from London
10.35AM
SUPER RUGBY LIVE
Jaguares vs Reds from Velez Sarsfield
11.00AM
GOLF: LPGA TOUR LIVE
Round 3 of the Bank of Hope Founders Cup
11.30AM
FOOTBALL: U17 YOUTH FINAL LIVE
**Teams and venue TBC**
12.00PM
NHL LIVE
Tampa Bay Lightnings vs Boston Bruins
1.00PM
FOOTBALL: U17 YOUTH FINAL LIVE
**Teams and venue TBC**
1.30PM
NBA LIVE
San Antonio Spurs vs Minnesota Timberwolves
5.30PM
NRL LIVE
Manly Sea Eagles vs Parramatta Eels from Lottoland
6.00PM
SUPER RUGBY LIVE
Waratahs vs Rebels from Allianz Stadium
7.00PM
A-LEAGUE LIVE
Melbourne Victory vs Central Coast Mariners from AAMI Park
8.00PM
NRL LIVE
Canberra Raiders vs Newcastle Knights from GIO Stadium
8.00PM
CRICKET: ICC WORLD CUP QUALIFER LIVE
**Teams and venue TBC**
---
 Monday 19th March
9.00AM
TENNIS: ATP 1000 INDIAN WELLS LIVE
Coverage of the ATP 1000 Indian Wells
10.00AM
WORLD SURF LEAGUE LIVE
Day 9 of the Quiksilver Pro Gold Coast
11.00AM
GOLF: LPGA TOUR LIVE
Round 4 of the Bank of Hope Founders Cup
8.20PM
CRICKET: ICC WC QUALIFIER LIVE
**Teams and venue TBC**