Entertainment
We have plenty of well positioned large viewing screens so you and your friends and family will be able to watch all the major sporting events.
You may also choose to have a flutter in the best gaming room in town, or book a large group in our new function room!
Remember too, that we serve desserts right up until closing time so once your movie is over drop back in for a bite of something sweet.
So… get your mates together and come join us.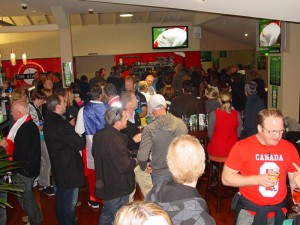 On the Big Screens
Tuesday 3rd November
9.10AM
GUINNESS PRO 14 LIVE
Glasgow Warriors vs Leinster
2.15PM
NFL LIVE
NY Giants vs Tampa Bay Buccaneers
4.27PM
WOMEN'S BIG BASH LEAGUE LIVE
Hobart Hurricanes vs Melbourne Renegades
5.00PM
BOWLS3FIVE LIVE
Coverage of the Bowls3five from New Lynn
9.02PM
WOMEN'S BIG BASH LEAGUE LIVE
Adelaide Strikers vs Melbourne Stars
Wednesday 4th November
8.55AM
UEFA CHAMPIONS LEAGUE LIVE
Red Bull Salzburg vs Bayern Munich
8.55AM
UEFA CHAMPIONS LEAGUE LIVE
Real Madrid vs Inter Milan
8.55AM
UEFA CHAMPIONS LEAGUE LIVE
Atalanta vs Liverpool
8.55AM
UEFA CHAMPIONS LEAGUE LIVE
Manchester City vs Olympiacos
4.27PM
WOMEN'S BIG BASH LEAGUE LIVE
Perth Scorchers vs Sydney Thunder
5.00PM
BOWLS3FIVE LIVE
Coverage of the Bowls3five from New Lynn
9.00PM
STATE OF ORIGIN LIVE
Game 1: NSW vs Queensland from Adelaide Oval
9.02PM
WOMEN'S BIG BASH LEAGUE LIVE
Brisbane Heat vs Sydney Sixers
Thursday 5th November
8.55AM
UEFA CHAMPIONS LEAGUE LIVE
RB Leipzig vs PSG
8.55AM
UEFA CHAMPIONS LEAGUE LIVE
Barcelona vs Dynamo Kiev
8.55AM
UEFA CHAMPIONS LEAGUE LIVE
Chelsea vs Rennes
8.55AM
UEFA CHAMPIONS LEAGUE LIVE
Ferencvaros vs Juventus
1.00PM
COLLEGE FOOTBALL LIVE
Central Michigan vs Ohio
10.30PM
GOLF: EUROPEAN TOUR LIVE
Round 1 of the Cyprus Showdown
10.50PM
CRICKET: WOMEN'S T20 CHALLENGE LIVE
Velocity vs Trailblazers
Friday 6th November
8.45AM
SUPER LEAGUE LIVE
Wigan Warriors vs Huddersfield Giants
8.55AM
UEFA CHAMPIONS LEAGUE LIVE
Arsenal vs Molde
8.55AM
UEFA CHAMPIONS LEAGUE LIVE
Leicester vs Braga
1.30PM
COLLEGE FOOTBALL LIVE
Temple vs SMU
2.15PM
NFL LIVE
San Francisco 49ers vs Green Bay Packers
7.00PM
MITRE 10 CUP LIVE
Southland vs Otago from Rugby Park
9.45PM
MOTOGP LIVE
Coverage of the MotoGP Gran Premio de Europa
10.30PM
GOLF: EUROPEAN TOUR LIVE
Round 2 of the Cyprus Showdown
11.00PM
ISU GRAND PRIX LIVE
Coverage of the ISU Grand Prix – SHISEIDO Cup
Saturday 7th November
8.45AM
SUPER LEAGUE LIVE
Castleford Tigers vs Leeds Rhinos
8.55AM
FRENCH TOP 14 LIVE
Toulon vs Brive
8.55AM
LALIGA LIVE
Elche vs Celta
10.30AM
NORTH & SOUTH ISLAND ENDURANCE LIVE
Coverage of the North & South Island Endurance Series from Christchurch
1.30PM
COLLEGE FOOTBALL LIVE
NC State vs Miami
2.00PM
BLACKFERNS: POSSIBLES V PROBABLES LIVE
Possibles vs Probables from North Harbour Stadium
2.00PM
MITRE 10 CUP LIVE
Auckland vs Northland from Eden Park
2.00PM
INTERNATIONAL WOMEN'S RUGBY LEAGUE LIVE
Niue vs Tonga from Mount Smart Stadium
2.12PM
WOMEN'S BIG BASH LEAGUE LIVE
Brisbane Heat vs Adelaide Strikers
4.00PM
INTERNATIONAL WOMEN'S RUGBY LEAGUE LIVE
Kiwi Ferns vs Fetu Samoa Invitational from Mount Smart Stadium
4.15PM
MITRE 10 CUP LIVE
North Harbour vs Counties Manukau
5.40PM
WOMEN'S BIG BASH LEAGUE LIVE
Sydney Sixers vs Hobart Hurricanes
7.00PM
MITRE 10 CUP LIVE
Tasman vs Canterbury from Lansdowne Park
7.30PM
ISU GRAND PRIX LIVE
Coverage of the ISU Grand Prix – SHISEIDO Cup
8.55PM
MOTOGP LIVE
Coverage of the MotoGP Gran Premio de Europa
9.00PM
TRI NATIONS RUGBY CHAMPIONSHIP LIVE
Australia vs All Blacks from Suncorp Stadium
9.05PM
WOMEN'S BIG BASH LEAGUE LIVE
Melbourne Stars vs Perth Scorchers
Sunday 8th November
8.55AM
FOOTBALL: LIGUE 1 LIVE
PSG vs Rennes
12.17PM
WOMEN'S BIG BASH LEAGUE LIVE
Melbourne Renegades vs Adelaide Strikers
1.00PM
UFC FIGHT NIGHT PRELIMS LIVE
Prelims: Santos vs Teixeira
1.37PM
COLLEGE FOOTBALL LIVE
Oregon vs Stanford
2.00PM
MITRE 10 CUP LIVE
Hawke's Bay vs Wellington from McLean Park
2.00PM
MITRE 10 CUP LIVE
Waikato vs Bay of Plenty from FMG Stadium Waikato
2.00PM
INAUGURAL NZRL SCHOOL VS CLUBS LIVE
**Teams and venue TBC**
3.45PM
WOMEN'S BIG BASH LEAGUE LIVE
Brisbane Heat vs Melbourne Stars
4.00PM
NZ RUGBY LIVE
NZ Residents vs NZ Maori Residents from Mount Smart Stadium
7.30PM
ISU GRAND PRIX LIVE
Coverage of the ISU Grand Prix – SHISEIDO Cup
10.30PM
GOLF: EUROPEAN TOUR LIVE
Round 4 of the Cyprus Showdown
10.50PM
MOTOGP LIVE
Coverage of the MotoGP Gran Premio de Europa
Monday 9th November
8.55AM
LALIGA LIVE
Valencia vs Real Madrid
9.00AM
FRENCH TOP 14 LIVE
LA Rochelle vs Clermont
10.25AM
NFL LIVE
Dallas Cowboys vs Pittsburgh Steelers
2.15PM
NFL LIVE
Tampa Bay Buccaneers vs New Orleans Saints